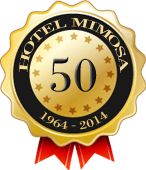 Hotel in Riccione in front of the sea
If you are looking for an hotel in Riccione just in front of the sea, Hotel Mimosa is the right choice. Situated on the seafront in the north of Riccione, in our 3-star hotel you will enjoy a relaxing holiday at the sea with all your family, with all the funny activities that Riccione is able to offer during the summer.

In the morning you can have breakfast in our panoramic veranda on the coast of Romagna, take one of our bicycles and have a relaxing ride by the seaside or spend your days sunbathing on the beach, just a few meters from the hotel.

Our hotel has got particular services for families: thanks to a special agreement with 5 beach areas in front of the hotel, 127, 128, 129, 131 and 135, you will find large spaces for your children of every age. And if you choose an all-inclusive offer for your holiday, the sunshade and sunbeds at the beach for your family are included in the price.

Every day you can enjoy the events of the summer, parties and activities on the seaside and at the beach, that have made Riccione and Romagna Riviera the most popular destinations in Italy.

Coming back from the beach, you can relax having a cold drink in our terrace before enjoying your dinner.

For your children, Hotel Mimosa provides entertainment and mini-club, transfer to the main theme parks of the region and free entrance toBeach Village water park for our guests during the summer.

The comfort of a seafront hotel in Riccione is waiting for you at Hotel Mimosa, where you will experience the best holidays of your life.